What's New in Home Automation
Put Your Home to Work
Posted
March 5, 2020
---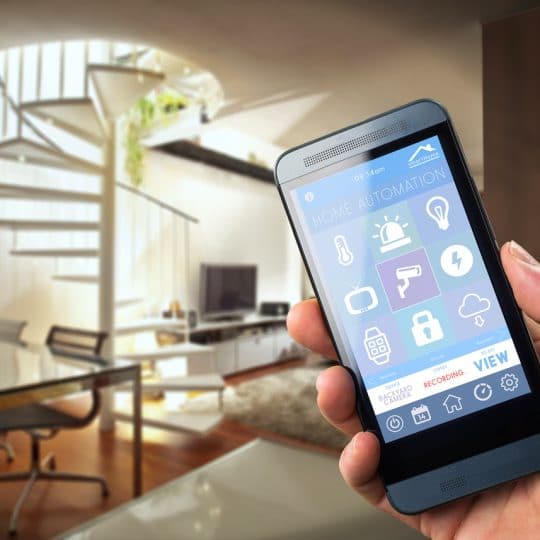 When's the last time you had a heart-to-heart with your home? Home automation allows you to ask various smart devices to perform daily tasks, add items to list, and answer all kinds of questions. But the real question is, what's next?
What's New in Home Automation
We can already program thermostats, control lighting, run vacuums, and set reminders, but what else? If smart devices already have these capabilities, future technology is only limited to our imagination. New products and apps hit the market at a rapid pace, offering homeowners a way to schedule their day-to-day from morning to night.
Even security is smarter. Notifications come in when someone arrives on your porch, opens your door, or attempts to open a window. Check in when you're on vacation, and never have to worry if you closed the garage, shut off the coffeemaker, or locked the doors.
In addition to the daily grind and security measures, your home wants to help keep you happy too. Record your favorite shows, play your favorite movies, listen to your favorite tunes all just by asking.
Timing is Everything
Set alarms and timers for everything from waking up to warming floors to automatically adjusting the temperature in your wine cellar. Add settings for lights and sounds when you're away or about to arrive home. Smart devices can perform all sorts of tasks:
At any set time
When sensing sunset or sunrise
Motion or sound is sensed
At a certain temperature
Via app
Appropriate Apps
Sometimes all you need is one smart device to power many. A smartphone not only keeps you connected through email, text, or other forms of communication. Load it with helpful apps to ensure you're on track in healthy, safe, and entertaining ways. Monitor exercise, vital signs, videos and more.
No Higher Education Needed
You don't need a degree to learn how to use this new technology. It's built to make our lives easier, so it must be user-friendly for it to work. However, it all takes some getting used to if you're just now diving into the world of home automation. Thankfully, there are experts available to help. Most apps and smart devices have some level of customer support. Companies like Security Five are also well-versed in what's new and needed for all sorts of services. From shopping to installation, consulting a home automation specialist only makes the process even smarter.