The Latest in Smart Home Technology
For Every Room in Your House
Posted
March 3, 2022
---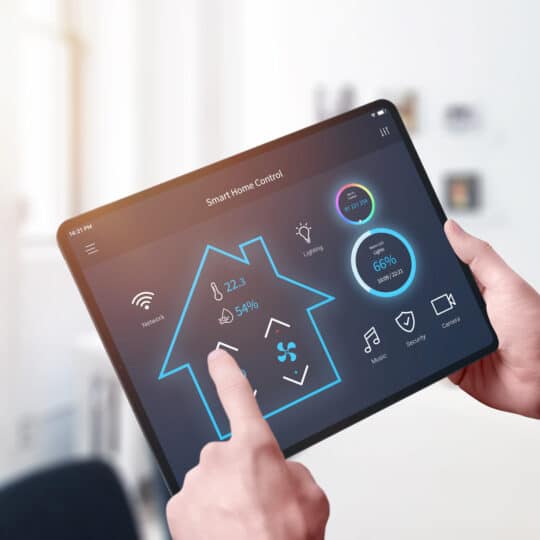 How smart is your home? From the TV to the fridge, there are so many appliances that work with voice control that we may end up talking to more devices than people these days. While the latest in smart home technology is constantly changing, the hope is to make your life a little more safe, comfortable, and livable—all without breaking the bank. Here's a room-by-room rundown of some of the most popular tech today.
Welcome Home
Let's start our smart home tour outside. The right device can help create both curb appeal and safety when used correctly. Certain security camera systems look as great as they work. Set up a network of motion-sensor lights along pathways or above the door to either go on once it gets dark or senses movement. Use the connected app to control the lights by voice or button and even sync it with compatible devices to record video.
Outdoor systems need a few features to work effectively: night vision, weather resistance, and high-resolution help to produce a clear picture even in low light. From doorbells to door locks, there are many ways to secure your front entrance whether you're home or not.
Cozy Conveniences for Easy Living
Once you've safely made it inside, wander into the living room for more tech magic. Tell your smart assistant to turn on the lights, adjust the temperature, set the mood with music, and more. There are many different devices designed to fit your favorite assistant, whether it's Alexa, Google, or Siri. Smart speakers and displays can show you everything from movies to what's moving outside. Smart bulbs can dim, change color, and turn on and off at certain times. Control it all with a smart plug that acts as surge protectors and energy-saver all at the same time.
Better Bathroom Habits
Get smarter about the way you bathe with devices that help you and your bathroom stay clean. A smart toilet can do everything from open and close on command to cleaning itself with a sanitizing UV light. Ask your smart assistant to start a bath for you, and the smart faucet will fill the tub to a preset amount. While the smart mirror won't tell you who's the fairest, it will shine a flattering light for flawless makeup application. Smart toothbrushes even turn the chore into a fun game for kids.
What Smart Home Technology is Cooking
If all this tech talk is working up an appetite, check the app to see what's in the fridge and order more while you're at it. Countertop appliances, like toasters, coffee makers, and air fryers, now come smart enough to tell you the right temperature to cook something and let you watch it cook from the couch. When dinner is done, the smart trash can will even help you clean up by staying open on command.
Rest and Relaxation
Being surrounded by smart devices can get exhausting. This is when you turn in for the night and turn on your smart bedroom tech. Dial the firmness of your bed up or down. Adjust the air conditioning and air purification in your room for more comfort. Smart baby monitors even keep a close eye on your little one and record their nighttime routine to give you peace of mind and help with sleep schedules.
The Latest in Smart Home Technology
This list is always updating. With more advances, tests, and user feedback, smart devices come and go, but what remains is the desire to make living easier. With information at your fingertips and the ability to search, connect, schedule, learn, and play, smart home technology isn't going away any time soon.