5 Security System Updates
For New or Existing Systems
Posted
January 20, 2022
---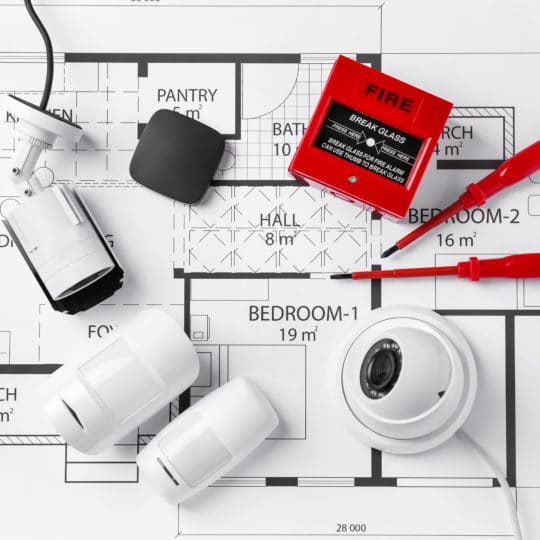 With the new year comes new goals and resolutions. If one of these goals is to keep your home or business more secure, then this time of year should also come with new security system updates. Whether you have a current system that needs an upgrade, or you're working from square one, this list of the top five features is a great place to start.
New Security System Updates
When's the last time you updated your security system? If you can't remember or you just asked, what security system, this list is for you.
Swap landline for wireless. Many older security systems relied on a landline connection. If you utilized central station monitoring to alert the authorities when an alarm went off, this signal was connected from your home phone to the call center. However, it's easy for a burglar to cut the phone line and disable this feature. Many households have also done away with their home landline and only use their cell phone. Not to fear. You can still connect to a central station through cell towers. Many providers have even made the switch easy for you.
Smart security alarms. Most of the security systems available today come with a related app that helps you control them. In addition to getting motion or sound notices, you'll also get alerts when to change a battery and if the system goes down. Not only can you monitor your home remotely, but you can arm or disarm a system, adjust notifications, and sync it with other smart home devices. Some other smart home security features include automating your lights, door locks, window sensors, and garage door. You can also monitor the temperature of your home for comfort or safety purposes.
Remote monitoring. Security systems used to be a simple camera and recording device that played back daily footage. Now systems are more advanced with motion detection, night vision, live video, and two-way talk. Check-in with your home or business whenever you're away. Answer your door even if you're not home.
Smoke and gas detection. Fire alarms were one of the first types of security systems found in the home or workplace. While it may seem like a simple solution, it's an extremely important one. Any type of smoke alarm needs to be updated after a certain time. While it may be okay to let your home surveillance system go out-of-date, letting your smoke alarms falter could be fatal.
Scalable systems. Since technology is always evolving, it's only fair that you're able to evolve with it. Security systems typically come with add-ons or offer software updates. If you're not sure what type of system you need, you can start small and build your network by adding another camera or sensor to the group. If you've already installed a full system but need to cover one more angle, you can easily integrate it with an additional compatible camera.
Tailoring Security to Fit Your Needs
Maybe your system needs one more camera, maybe it needs an overhaul. Whatever the case, updating your security system is an investment in the safety of your family, home, and business. Contact Security Five to review your current security needs. Add convenience and peace of mind to your everyday life.