Benefits of Live Equine Monitoring
For Everyone Involved
Posted
September 23, 2021
---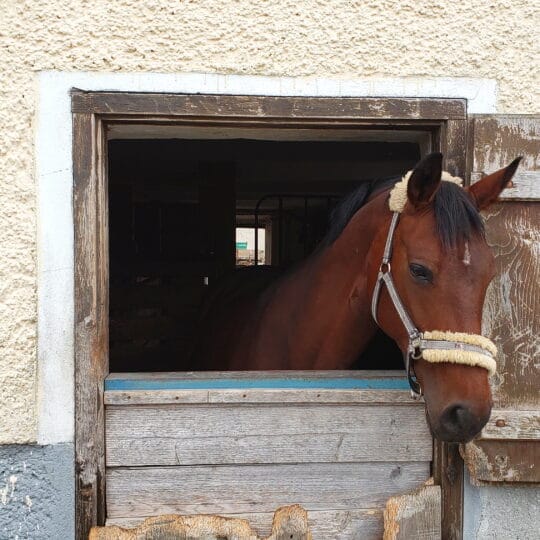 So many households are recognizing the benefits of home monitoring systems. From doorbell cameras to systems designed to look after pets, the ability to check-in 24/7 is a draw. The same technology can be used to monitor horses to the delight of owners, trainers, and veterinarians. There are even more live equine monitoring benefits. Let's explore a few related to a horse's health, schedule, and team.
Monitoring Horse Health
There are already many devices available to monitor and track human health, especially if there's an underlying medical issue. Some of the same technology applies to monitoring a horses' vitals. From wearable trackers for heart rate and stress to stall surveillance for measuring rest, you can gain a lot of information about your horse's well-being from all different angles. Here are just a few reasons why you would want to monitor your horse in realtime.
Injury. Keep an eye on your injured horse to make sure they're not doing any additional harm inside their stall or out in the field. Some wearable trackers also monitor movement to keep track of gaits and strides.
Sickness. Monitor the status of a horse recovering from another ailment. Whether you check-in through a live stream of the stall or an app attached to a wearable device, you can make sure the patient is resting comfortably.
Pregnancy. Keep track of how your mare is progressing throughout her pregnancy. Receive up-to-date stats through a wearable device and keep a close eye on the process through live video footage.
The health and safety of your horse is worth setting up a system to stay updated. If there's ever a problem, you'll want to be informed right away instead of learning of an issue once it's too late.
Equine Monitoring on the Road
Travel can put a lot of stress on a horse. From loading and unloading a trailer to getting settled into a new place, it's another experience that could benefit from the insight of regular monitoring. Use a wearable tracker to know how your horse is feeling during the process. Then set up a mobile monitoring system in the new stall area when you've reached your destination. Even if you can't make the trip yourself, having a way to check-in and get notified of any issues that may arise can be comforting.
Professional Benefits of Live Equine Monitoring
A single horse could have a team of people all looking out for its well-being. Of course, the owner is at the top of the list, but then there's the one boarding, training, riding, and caring for it that will all be invested. Live equine monitoring benefits all parties when there's one place everyone can check in and get notified of certain stats.
Keep the vet up-to-date on sickness, injury, or pregnancy progress.
The trainer will want to know how a horse is healing and feeling as well.
If the horse is boarded, a live feed will help the owner stay in daily contact.
Boarding facilities can also use live equine monitoring as a perk to their clients. If you had the choice to board your horse in a stall you can monitor 24/7, wouldn't you choose to stay in the loop?
Whatever the reason or role you play in the horse's life, discover the benefits of live equine monitoring for yourself. For more information on how to set up the right system for your needs, contact Security Five.