Wearable Equine Monitors
A New Level of Communication
Posted
July 22, 2021
---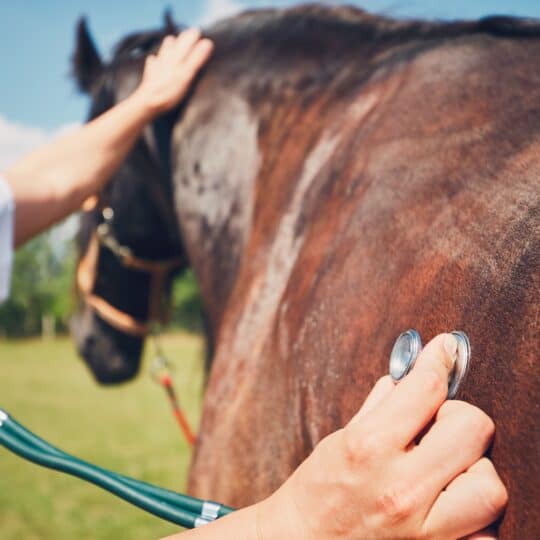 What if there was a way to determine what your animals are feeling? While certain pets make their desires for food and attention clear, what if we could measure their levels of stress, activity, and overall well-being? There is a way—well, for horses at least—to track certain patterns and behavior. Wearable equine monitors make it possible to measure vital statistics and track performance—tapping into a level of communication that could make a big impact in both of your lives.
Why Monitor Horses
Many people already track their steps, calories, sleep, exercise, and other stats daily. We do it to keep tabs on our health and happiness. So why not use similar technology to help discover what our animals are feeling, especially since they're not always vocal about it. Equine monitors have several uses:
Track performance of show animals
Measure vitals of sick, lame, or pregnant animals
Monitor stats during stressful times, like travel
Keep an eye on animals from anywhere
Share statistics with vets, trainers, owners, and boarders
While there are different types of equine monitors, wearable devices help to pinpoint important data specific to a certain horse. Measuring heart rate, gait, strides, and other movements help to paint a more clear picture of what's going on with your animals.
Types of Wearable Equine Monitors
When it comes to wearable monitors, where you wear them matters. Some equine devices are worn as a girth strap, bib, or collar. Some are meant to be worn while at rest in the stables and others are meant to move with the horse through various exercises. Whichever device you choose, remember that it's for an animal that spends a lot of time outdoors, so the device should be water-resistant and durable enough to withstand certain conditions.
Wearable monitors can collect all kinds of data, including:
Leg movements
Stride patterns
Calories burned
Heart rate
Jumping form
Training sessions
Distance covered
Temperature and sweat level
Vet visits and vaccinations
Stress
Sleep
After these stats are transmitted from the device to a remote monitoring app, the information can be stored and shared with other interested parties. Monitor the consistency of certain behaviors and spot any irregularities to help diagnose illness or track recovery time and progress. Receive alerts when your horse may be experiencing discomfort. Share stats before, during, and after a birth. Organize health records to make vet visits easier.
Keep Everyone Informed
Wearable equine monitors are important tools for trainers, boarders, and owners alike. Livestream races for instant access to speed and time. Monitor multiple horses with one system that can sync several devices. Learn your horse's habits with adaptive sensors that pick up certain behavior patterns and alerts you to any changes. Receive all of this information directly from the wearable device to your remote device to stay up-to-date anywhere in the world.
Gain insight into the body and mind of your animal with more concrete information than your intuition can tell. When you're fully informed, you can provide better care for your animals and give them the life they deserve. For more information on wearable equine monitors and other security devices, contact Security Five today.