Top 10 Tips for Traveling with a Horse
And How Equine Monitoring Helps
Posted
December 12, 2019
---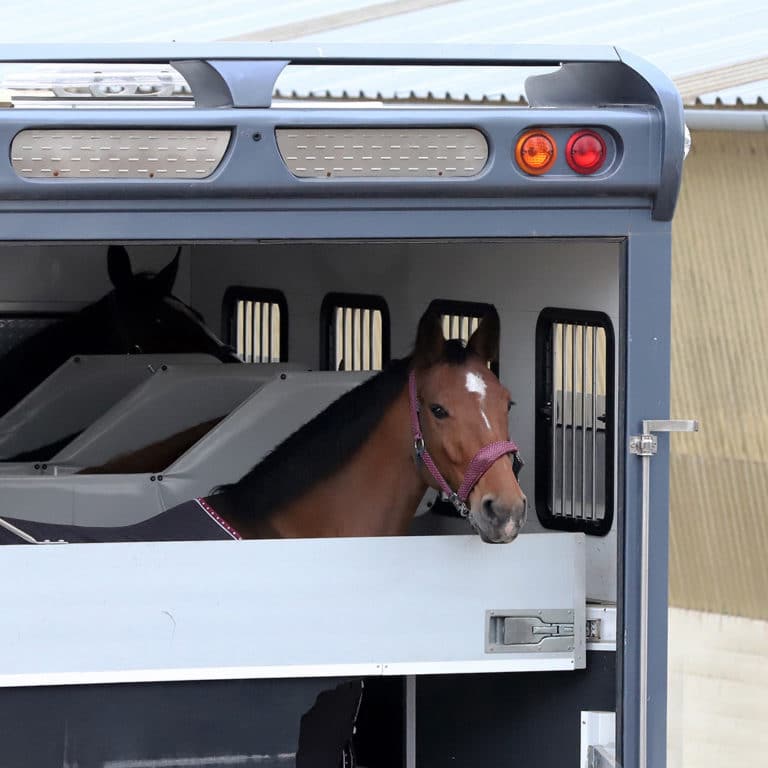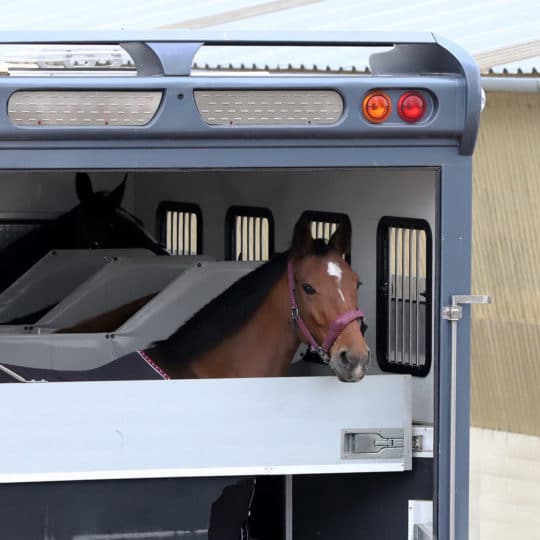 Whether heading to the vet, race track, or show grounds, road trips with a horse are an involved process. Here are some travel tips to keep in mind.
Top 10 Equine Travel Tips
The better prepared you are before the trip, the happier all travelers will be. If it's easier to make a list of things you need to do and pack, add the following to that list:
Before even getting on the road, make sure your truck and trailer are in working order. The last thing you want is to be stuck on the side of the road with a flat tire and a stressed horse. Go over the inside of the trailer to fix anything sticking out that may injure the animal when they move around.
Familiarize the horse with the travel routine. Even if you're not going anywhere, practice loading and unloading the horse on the trailer. Take a short trip around the block at first. Try on any special travel gear—like boots and bandages—before the trip. Don't start any new medication before you leave—if the horse is sick, it shouldn't travel. The less new experiences you have to deal with, the better.
Pack an emergency kit with first aid for you, your horse, and your truck. Carry the number for the nearest hospital, vet, and repair shop to cover all bases.
Keep trips short and stop often. Your horse and passengers need a break just as much as the driver.
Keep things clean. Make sure there's access to clean, dust-free food. Keep hay nets low but far enough away from stomping feet. Use any stops to freshen up the area and remove soiled materials.
Stay hydrated. Ensure the horse has been drinking adequately before, during, and after the trip. Offer water breaks every few hours, especially in hot weather.
Stay ventilated. Air quality is key for comfort, especially on long, hot trips.
Ensure the horse has enough safe headroom. They should be able to move their heads as much as possible.
Monitor anything and everything. From their outward behavior to their internal vitals, take note of their temperature, weight, and eating habits before, during, and after the trip to help prevent and treat signs of sickness or stress. From wearable monitors to video surveillance in the trailer and at the final destination, you can keep track of your horse at all times.
Once you reach your destination or return home, provide a recovery period from one to three days to help your horse get back to their normal routine.
Equine Monitoring on the Road
In order to keep watch over your horse, no matter where you are, travel with a portable monitoring system that easily sets up in the trailer or stable. This makes it easy to keep track of their needs at home and on the road.