When to Update Fire Systems
And When to Replace
Posted
April 15, 2021
---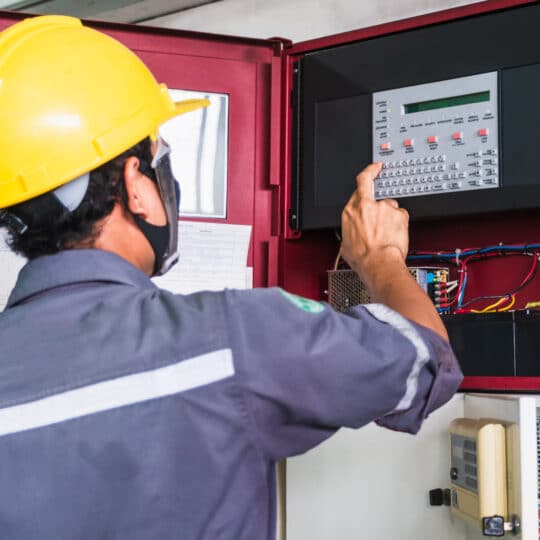 Do you know when it's time to update fire systems? Not simply changing the battery—the entire system? Even basic fire alarms need to be updated over time, especially if you want to add more functionality. Ready to add more bells and whistles to your home security? It could be time for an upgrade.
When to Update Fire Systems
Whether you have a single smoke detector or a network connected to a third-party alarm company, there will come a time when the system will need to be updated. When it comes to something as important as the health and safety of your family or business, you don't want to leave it outdated.
Evaluate your current fire system and consider the following:
Age. How old is your system? Basic alarms should be replaced every ten years and other systems may require regular updates, especially if they require software.
Functionality. From a single smoke alarm to a full system of temperature controls and sprinklers, is it all still meeting your needs?
Equipment. More substantial systems require regular upkeep of wiring, sensors, power stations, and more.
Facility. Are you upgrading to a larger facility or want to expand your system to connect to various buildings?
Once you've considered your options and addressed any outdated services, decide whether your system needs an upgrade or total replacement.
When to Replace a Fire System
Upgrades are needed when the system works but needs new functionality or software update. Systems need to be replaced when they no longer work, are out of warranty, have an open recall, or are deemed unstable. When providing a system for any public work or gathering space, the fire system needs to comply with updated fire codes. If you're unsure of current regulations, consult with fire protection professionals for a complete audit of your system. You may only need to replace certain components instead of an entire system, and so the audit could be worth the time and attention.
If you use central station monitoring, check to see if they currently provide audits and upgrades. They should also know if any open recalls exist on included equipment and what may no longer be code-compliant. Make sure they're informed of any updates made by other parties to ensure notifications are routed correctly.
Ongoing Maintenance
Fire systems need regular inspections, tests, and maintenance to keep them in top working condition. The system manufacturer should provide more information on the proper steps to take to keep your system running efficiently. If you have additional questions on your current system or are looking to update or replace an older device, contact Security Five for more information.