Give the Gift of Equine Monitoring
It's on Every Equestrians Wish List
Posted
December 24, 2020
---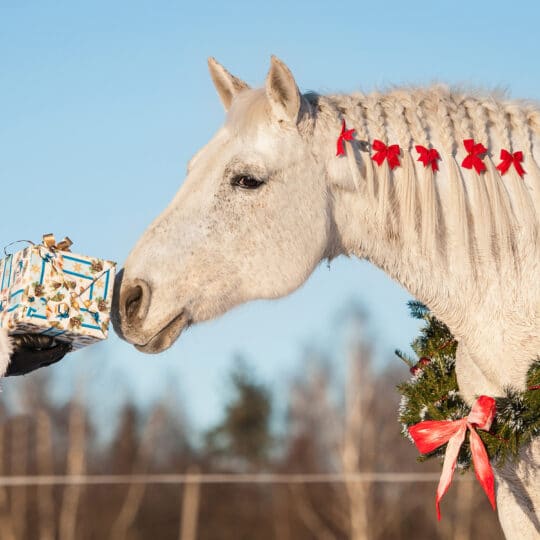 For that special horse-lover in your life, give the gift of equine monitoring. Not only is it an added safety measure in the barn, but it can connect horse owners, trainers, breeders, and vets to provide a horse with the care they need. Take a look at some equine monitoring gifts available this season. It's sure to be the gift that keeps on giving.
Equine Monitoring at the Stables
Many of us have some form of home security system. From doorbells to pet cams, there are different variations on the market. For those with barns and stables, it's an extension of the main farmhouse. Not only does it store valuable equipment, but it also houses members of the family—your horses or other livestock.
An equine monitoring system can be as simple or complex as you want to make it.
Set up a wireless camera to monitor what goes on in the stables around the clock.
Get notified when different motion or heat sensors are triggered.
Grant other users access to the livestreaming feed through the web or mobile device.
Whether you purchase a system or DIY your own version, you're adding another level of protection to what matters most.
Monitoring Horses on the Road
We're used to keeping track of our well-being—tracking exercise, diet, and sleep. So this should extend to others we care about—including horses—especially when traveling.
There are many ways to help track a horse's vital stats, and many tools that make this process easier. Different forms of wearable technologies help determine your horse's current level of health and happiness.
Measure a horse's leg movements with a tracker worn in a fetlock boot.
Monitor temperature with a sensor worn on the rug.
Motion sensors worn on a bib or girth strap help measure activity, sleep, stress, and more.
This information is useful on several occasions, including after injury, during training sessions, and downtime.
Choosing the Right Equine Monitoring Gifts
With all the options, it can be difficult to pick a new equine monitoring system. Many of these tools include apps that easily share data with interested parties. This feature narrows down the choices, but there's still the question of proper use and installation (if needed). Reach out to your vet or training facility for specific advice, and contact the security specialists at Security Five for more information on monitoring what means the most to you. Then spread the love by gifting a monitor to your favorite equestrian.