Gate Design Tips
Reasons Why Custom is Key
Posted
June 4, 2020
---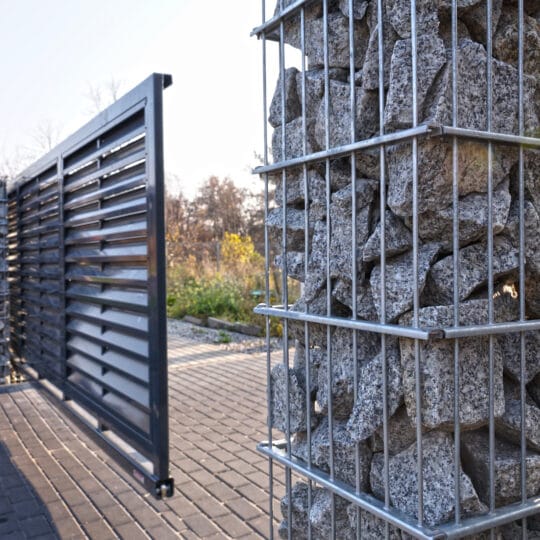 Whether you need a finishing touch on a fence project or want to add an accent to the end of your driveway, there are many reasons to custom design a gate to match your style and needs. Here are some gate design tips for making the project your own.
Reasons for Designing a Gate
Why do you need a gate? The reason should come easily, it's the planning that takes place after that requires more work. Here are two of the main reasons custom gates are designed.
Increased security. A gate situated at the entrance to your property is the first sign to visitors that they're entering a secure location. Whether the gate blocks the view of a home or displays its strength through a durable wrought iron design, it puts a barrier between those who belong and possible intruders. Gate features such as cameras, intercoms, and automatic openers can also be customized to increase security even more.
Curb appeal. From the materials you choose to the way a gate functions, the custom design says a lot about you and your home. You have the ability to make it your own and let visitors preview what's to come once they enter the property. Creating a custom design means it's one of a kind, and it can be as classic or ornate as you—and your budget—allow.
Gate Design Tips
When it comes to custom gates, there are more possibilities for form and function than if you were to choose a standard style. Before design begins, you must consider the following parameters:
Material. If you already have a fence around your property, the gate should match. A sturdy metal fence with a rickety wooden gate goes against both form and function.
Aesthetic. Not only should the gate and fence match, but it should all flow with the overall property design. There's no need for an elaborate wrought-iron gate in front of a quaint country cottage.
Security. Not only is the gate a sign of the level of security, but it needs to follow through. A heavy-duty automatic sliding gate that constantly malfunctions is not as secure.
Function. Be sure automatic gates function properly and are designed in such a way that doesn't disrupt traffic patterns. Also, manual gates should be operated away from busy roads to allow traffic to flow.
Environment. Be conscious of the type of ground you will be building your gate, and how weather patterns may affect operation.
Budget. The more elaborate the gate, the more expensive it will be.
When it's time to design your own custom gate, contact Security Five for both specialized security options and design ideas.