Collaborating in the Cloud
Tools to Use & Look Forward to
---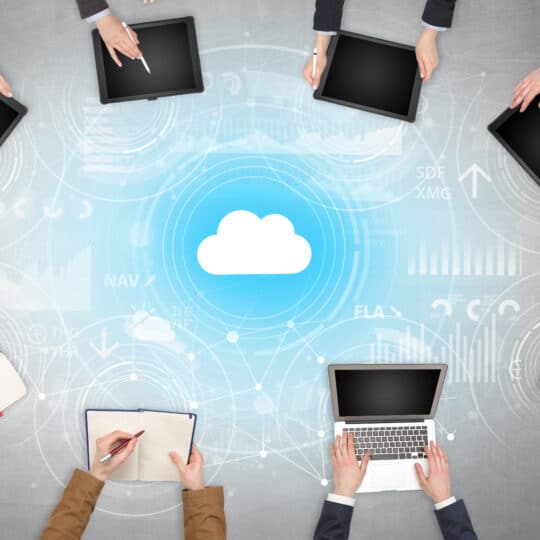 Gather the team for a meeting…in the cloud! Sounds like a magical experience, right? With the shift in remote work and advances in technology, collaborating in the cloud is easier than ever. Discover the benefits for businesses and employees alike.
Collaborating in the Cloud
Before, in order to effectively collaborate, you needed multiple meetings with everyone in the same room looking at a colorful board full of notes and ideas.
Now, you can still have that colorful board, but it can be shared electronically with a team spread across town or around the world.
Cloud collaboration is a method of working together on projects saved to the cloud. Everyone has access to the same file and can edit it in real-time. A comment section allows for discussion with users currently in the document or for them to view at their convenience—no more struggling to find a meeting time or space.
There's also no more multiple versions of the same file and confusion around which one is the most updated. Sure, there's a chance of something being missed with poor internet or files not syncing properly, but we've come a long way from traditional meeting methods.
Workforce Benefits
Collaborating in the cloud benefits any team, whether they work from home, on a hybrid schedule, or in the office. Simplifying the file-sharing process to an online portal that's readily accessible is a win in any organization.
Working as a team can be difficult, but it's essential on many levels. The way a team communicates is also integral to their success. Providing teams with a central location for accessing and updating files is a start. It's up to these teams to properly train on these systems to use them to their full capacity.
Other benefits of cloud collaboration include:
Streamline workflow with one central location of files that's easily searchable, shareable, and usable.
Increased productivity when everyone is on the same page.
Greater sense of community when teams are eager to work together.
Stimulates creativity with online brainstorming sessions.
Inclusive to a broader, more flexible remote workforce.
Increased participation when the team is held accountable for their part and you can see who has accessed the information.
Automatically back up a file to help prevent accidental loss or edits.
Since cloud collaboration is part of a growing digital transformation, more and more tools and functions will surely bring about more benefits in the future.
Cloud Collaboration Tools
As of right now, there are a variety of tools a team can use to collaborate in the cloud:
Project management. Shared calendars and message boards make it easy to assign tasks, objectives, due dates, and meetings.
Communication. Instantly message coworkers or set up a video call to quickly chat about a project.
File sharing. Don't just email a document, send a link for them to comment and suggest any edits.
Many of these tools are available in a free version, but there are also business profiles available to customize options that suit your business needs.
Successful Collaborating in the Cloud
While cloud collaboration is a helpful method of working together with many benefits to the business, it doesn't work automatically. There's still needs to be a level of planning and follow-through to take place. Here are some tips to get there.
Tool Training. A tool is only good if you know how to use it. When implementing a new process, provide enough training to help ensure your team can access the information correctly. Many platforms offer their own training videos. You should also set up a tutorial to feature the tools your team will use regularly.
Get Organized. Make sure your team has all the right access to the different parts of the tool. If there are shared folders, check that the correct permissions are in place for everyone to view, edit, or share the data.
Delegate. Be clear about what each member of the team needs to do in the tool. If you just throw some documents in a file without proper instruction, your collaboration will fall flat.
Communicate. Keep the lines of communication clear and open. Make it even easier by setting up alerts and tagging team members in the tool, if applicable. Set deadlines, reminders, and notifications to make sure everyone stays on schedule and the same page.
Stay Transparent. Many of these tools allow for users to see who is viewing the documents and making changes. Be clear on whether or not these features will be used and for what purpose. Build trust among your team for more open and honest communication.
Professional Cloud Collaboration Services
If you know you need a new system for collaborating in the cloud, but you're not sure where to start or you want to discuss a more scalable option, talk to the team at Security Five for guidance. Whether it's building a custom platform or pointing you in the right direction of an online option, you're sure to find the right solution to bring your team together, no matter where they are.