Storing Data in the Cloud
Which Option is Right for You
---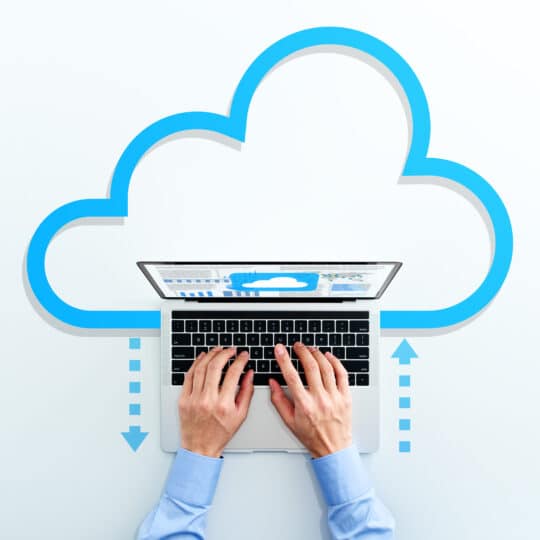 How do you store data? Do you prefer the old-school style of hard copies and hard drives? Or have you crossed over to the digital side? While storing precious, private information in something called "the Cloud" may seem unstable to some, it's an option that's only growing and improving with time. Learn more about how storing data in the cloud could be the right solution for you at home and in the workplace.
Reasons for Storing Data in the Cloud
Generally speaking, the cloud is an online storage facility for files. If you currently use public email or any mainstream file-sharing software with a web-based platform, this information is most likely in the cloud.
There's a reason why large companies are turning toward cloud storage:
Large storage capacity
Scalable solution
Flexible pricing
Remote access
Whether a company has an in-house IT department or not, the cloud is easy to manage via online tutorials or a dedicated help desk. Security measures are also improving as systems become more intuitive.
Accessing the Cloud
So, how does it work? Who's picturing picking files from the sky? No one? Good. Cloud storage utilizes at least one data server connected to the internet. Files are transferred online to multiple servers to ensure easy access. Files are available remotely through a web-based interface.
There are different types of cloud service providers.
Personal cloud storage. A personal device is connected to a network that allows the user to store different types of personal data, such as text, photos, video, and music. The user may choose to password-protect this information, but they own the device and can access the data from anywhere.
Private cloud storage. Storage servers are located and managed on-site with the company that owns them. Organizations benefit from the flexibility and scalability of cloud storage, even though it's under the control of the Cloud company.
Public cloud storage. Large data companies, like Google, Amazon, and Microsoft act as third-party cloud storage online.
Hybrid cloud storage. A combination of public and private cloud with a data center.
No matter the type, cloud storage has one main mission: to help people keep up with an increasingly digital world by keeping their files stored in a secure, yet sharable platform. To learn more about cloud storage and which solution would work best for you, contact Security Five