Fire Alarm Battery Life
Fresh Batteries for Safe Families
Posted
July 8, 2021
---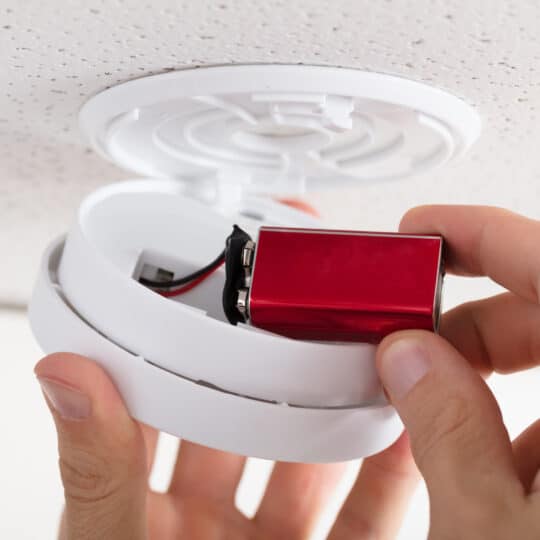 The fire alarm is one of the most basic security systems a house can have. Simple systems only require batteries to function. This is why it's imperative to know the typical fire alarm battery life expectancy to help keep your family safe.
Fire Alarm Battery Life
Even the best smoke alarm won't work if there's no power source. The standard source of most systems is a good ol' fashion battery.
You've probably heard about testing your fire alarms at least twice a year when you change your clocks during Daylight Savings. This is a good practice to keep. But you should also know that batteries may die in between springing forward and falling back. Testing your system at least once a month is the least you can do to help ensure the safety of your family.
Most alarms have a feature to alert you when the battery is dying. It's hard to ignore that constant chirp and flash of light your system may give off when it needs more power. And you definitely should not ignore it. Not even if it's nowhere near time to change the clocks. Change that battery.
The National Fire Protection Association (NFPA) recommends changing the batteries in your smoke alarm every six months. This is a good rule for most standard systems. However, now there are updated systems that offer built-in batteries that are supposed to last for 10 years. After a decade goes by, it's time to replace the entire system. Even if you have such an alarm, it's still a good idea to test it regularly.
Hardwired Fire Alarms
Want to forget the batteries altogether? Well, you could invest in a hardwired fire alarm with an electric power source. However, you'll still need a battery backup in case the power goes out. You'll want to replace the backup at least every six months as well. Then, you'll want to look into replacing the system after 10 years too.
Some hardwired systems may also connect to additional safety features, such as sprinklers, carbon monoxide alerts, and central station monitoring devices. All of these safety features need regular maintenance to help ensure they stay in working order, which then helps ensure your home and family stay safe.
Installing these electrical systems should be done by a licensed professional. Contact Security Five for more information on the best fire alarm systems for your home and what else can be done to update your current system.