Corporate CCTV System Components
When Security is Serious Business
Posted
April 22, 2021
---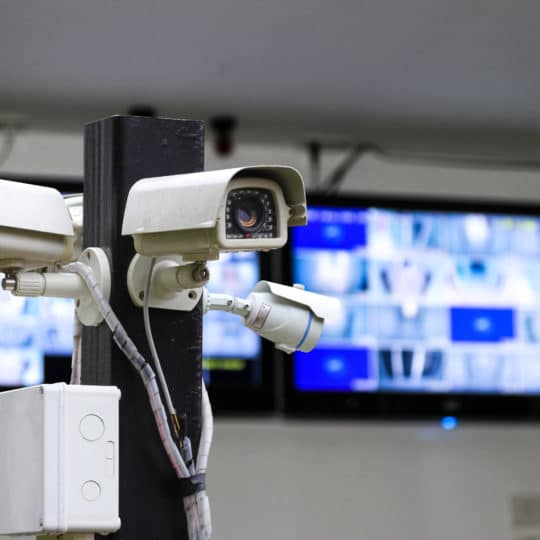 Whether you're looking for a security system for your home or office, every closed-circuit television system has its list of basic components. However, corporate security is serious business. Upgrade the basics with these corporate CCTV system components.
Corporate CCTV System Components
No matter what environment it's in, a security system requires four main components to capture surveillance footage.
Camera. While one or two cameras may be enough to secure your home, you'll want more coverage around the corporate office or warehouse. Remember, this is a business. Not only are you responsible for personal safety, but also the welfare of employees, customers, vendors, and anyone else who may enter the premises. Keep all your bases covered with some of these value-added features for both indoor and outdoor models:
HD video
Night vision
Motion sensors
180-degree field of vision
Weatherproof
Rugged material
Monitors. Like a home system, the number of cameras you have should correlate with the number of monitors needed. The monitors must be compatible with the other devices connected to the network. Plus, you won't be able to see high-res camera footage as well on a low-res monitor, so plan accordingly.
Recording Systems. The more cameras and monitors you have, the more robust your recording system needs to be. A commercial-grade recorder may be more powerful, but it should still be user-friendly like the residential models. Many people are already familiar with DVR systems. However, an NVR may be easier to integrate with high-resolution IP cameras to make your system more flexible and future-proofed. Look for some of the following features:
Wireless capabilities
Alarm sensors
Mobile notifications
Automatic system checks and updates
Adjustable recording schedule
User-friendly interface
Video Management System. Controlling multiple cameras, monitors, and all of the recorded footage is more manageable with the right system. Easily connect and control all of the components through a VMS. Start, stop, rewind, and search for content with compatible software and a user-friendly interface. Most importantly, check in when you're away from work with remote viewing apps.
Scalable Solutions
It may not be a device, but scalability is just as important as all the other components. With technology in a constant state of update, you want to invest in a system that won't be obsolete tomorrow. This is especially relevant when you're looking to budget security for your business. Many systems have automatic updates built in to the software. Others are easy to add additional features to, such as syncing additional wireless components.
Professional Installation
While you're planning to install a corporate CCTV system for your business, turn to the pros for help. Even if you've decided on the components, you still need to connect them all seamlessly. The security experts at Security Five can help you choose the right components your corporate needs as well as configure it all into a workable network that helps keep your company safe.
---
Special Offer for New Customers
$60 Off First Year of Monitoring
Hurry! Offer Expires October 31, 2021