10 Types of CCTV System Cameras
And the Purpose of Each
Posted
November 14, 2019
---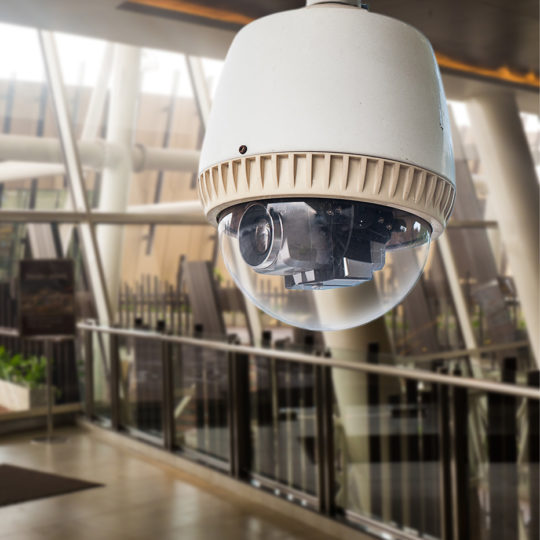 With so many security cameras on the market these days, it's easy to get overwhelmed with choices. Here's a breakdown of ten different types of closed-circuit television (CCTV) system cameras and how each is typically used.
10 Types of CCTV System Cameras
Whether you install a CCTV system in your home or office, a camera is one of the main features. However, there's a wide range of cameras designed for different purposes. Here's what you can expect:
Bullet Cameras. Small in size and price, mount these thin, cylindrical cameras to a wall or ceiling and capture images in one focused area.
Dome Cameras. Designed to be noticed but out of the way,  these large dome-shaped cameras act as a crime deterrent and safety precaution.
Hidden Cameras. Some CCTV systems have cameras built into an unsuspicious object, like a mirror or fan. However, there could still be signs that the area is under surveillance—especially in a public space.
Infrared Cameras. In order to continue CCTV surveillance in the dark, night vision cameras capture images with infrared lighting. Some cameras have the capability to continuously record footage 24/7, so they must constantly compensate for lighting changes.
Varifocal Cameras. Just as some cameras adjust for light, these cameras automatically adjust focus while zooming in and out of an image.
Network Cameras. Whether connected to multiple cameras or recording devices, these cameras transmit images and data through the internet.
Wireless Cameras. Even without the internet, these cameras connect to other mobile devices through Bluetooth wireless technology to transmit data.
Pan-Tilt-Zoom Cameras. One of the more manual types of cameras, users have more control over the viewing range.
High-Definition Cameras. A camera is only as good as the image it provides. These cameras produce higher quality images for more detail of an area—typically higher risk areas, such as banks and casinos.
Cloud Storage Cameras. While some CCTV systems connect to recording devices with limited storage, this design uploads footage to the cloud. This makes it easier to collect a large amount of data and easily share it when needed.
CCTV Camera Installation
Once you decide what type of camera will better fit your needs, you'll need to determine how to install it. Of course, some types—like wireless systems—are less complicated, but a dome or hidden camera requires more work. Contact Security Five for more information on the type of CCTV camera system right for you and for guidance with the installation.
---
Special Offer for New Customers
$60 Off First Year of Monitoring
Hurry! Offer Expires June 15, 2020