Could an Estate Gate Save You Money?
Posted
October 20, 2016
---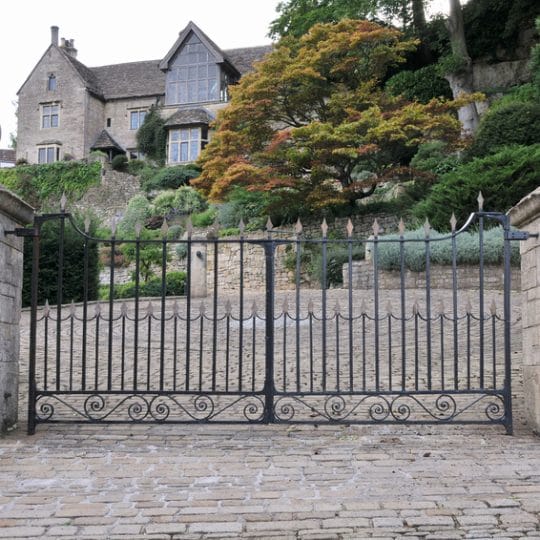 When you want to make a statement with your property, an estate gate is the way to go. The sight of an estate gate evokes prestige, elegance, security and luxury. But did you know that an estate gate can also save you money? Here are a few surprising reasons that an estate gate can equal serious cost savings.
Estate Gates Will Save Your Property
According to the FBI, a burglary occurs approximately every 15 seconds in the United States. In addition, studies show that properties without a secure front gate are far more likely to be burglarized than those that have them. Consider the financial value of your property. But also think of the sentimental value. So many of our personal things have special meaning. They are essentially irreplaceable. An estate gate can keep your property secure and prevent theft of your priceless valuables.
Estate Gates Prevent Hospital Bills
Prevent a dangerous trespasser, be it a criminal carrying a shotgun or a wild animal, and you will save money related to hospitalization. The safety of your family and your pets is precious. Estate gates allow you to live your life free from scary, potentially life-threatening interruptions.
Green Savings of an Estate Gate
At Security Five, we offer a broad range of estate gates. In fact, many models feature openers that rely on solar or battery power. These features equal lower energy costs and have a smaller environmental footprint.
Estate Gates as a Tax Deduction
If you work from home and are installing an estate gate, your company may allow you to deduct it on your federal income taxes as a business expense. That's because you are making an effort to protect your place of business. In addition, if your gate opener uses solar power, you may be able to claim that expense. Check with your tax preparer for the most up to date information on available tax breaks.
Estate Gates Might Lower Insurance Rates
Make your property safer, and your homeowners insurance company may reward you. Check with your insurer to see if the installation of an estate gate could score you a discount. He or she may ask you about the features of your estate gate. For example, an alarm system, motion-triggered lights, and monitoring devices are all add-ons that can deter theft.
When Time is Money
How much is your time worth? Calculate the time spent answering the door and shooing away solicitors or suitors for your teenage daughter. Add up the hours you've spent searching for your dog, because the perimeter of your property was not secured. Then, consider the time you can get back with an estate gate, one with a remote opener and an intercom system. The convenience is indisputable. How will you invest that extra time?
Call on the Estate Gate Experts and Start Saving and Living More Safely Today
Security Five is a team of home security and automation experts. We are passionate about helping families and individuals build better personal security standards. In short, we want to help our customers live safer, happier lives. Our company is proud to offer a range of driveway and estate gates. Contact Security Five at 610-310-5584 today to discuss an estate gate that will meet your needs, aesthetic tastes, and budget.